Speech Therapy for Adults
Professional Development and Accent Improvement Therapy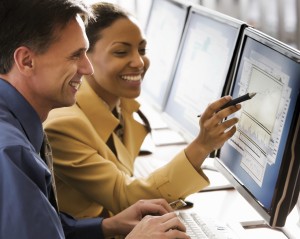 Our graduate level education and experience uniquely qualifies us to offer individualized analysis of your particular speech, language ("grammar"), and voice patterns. We help you set the goals you need to achieve so you are easier to understand and people pay more attention to what you are saying than how you are (or are not) saying it.
Accent Improvement Therapy is different from English as a Second Language (ESL) classes. It is designed to address specific pronunciation patterns in conversational speech for those with a prominent foreign accent.
The benefits of professional speech development include:
– reduced frustration for you and your listeners
– improved professional image
– improved confidence
– reduction of grammatical and articulation "errors"
– better ability to be understood on the phone and during presentations
– improved public speaking skills
– WHAT you say is 5% of your message, HOW you say it is the other 95%. Let our expert coach you to success!
"I am going back to work now!" (as a receptionist) "People can understand me again."
– Woman, age 52, tongue cancer resection patient
Voice Improvement Therapy
Does your voice command attention or tune people out? We can help develop your presentation voice.
Many professionals use a speech rate, speaking pitch, or loudness level which is inappropriate. Combined with nonverbal (vocal use) patterns, you can present an image which says you are the expert and hold your audience's attention.
Recapture your status by improving your voice. A voice which is "grating", too loud, or inappropriately pitched will cause people to notice your voice, not what you are saying. They may even complain about you or your voice being disruptive. We can help you modulate your voice and facilitate new found respect by those you respect.
Cognitive Speech, Swallowing Disorders and Post-Hospital Therapy
We work with adults recovering from brain injuries, brain surgeries, stroke, cancer treatment, swallowing problems (including feeding tube dependence), and a variety of communication and speech problems. Early after discharge, or as soon as possible following a medical incident, there is what is called a "critical window" of time during which it is best to receive intensive therapy. We'll coordinate care with hospital care providers for an optimal continuum-of-care. It's in that "critical window" that you'll want an expert partner like San Diego Speech Therapy.
We also provide therapy for language comprehension disorders and/or language expression disorders such aphasia and cognitive communication disorders resulting from brain injury and dementia. We treat swallowing disorders (dysphagia) using VitalStim®.
Tongue Thrust Therapy
For adults who have an "overbite," "crossbite," etc. and require braces, it is important to have an evaluation for tongue thrust to ensure that when your braces come off, your teeth are not pushed back into an unsightly position by the force of your tongue pressing on your teeth as you speak and swallow. This condition often goes unidentified. If not corrected, braces have to be put on a second time as the thrusting pushes your teeth into an abnormal bite and alters your smile.
"I've learned so much, my teeth are already shifting."
– Woman, age 36, after five sessions of tongue thrust therapy